1. You grew up with music, but what made it the right career for you?

Music is so powerful. It can change the way people view different situations and it really helped me through most situations when I was younger and even now. I wanted to be able to write about my life and share it in a way that could hopefully help or inspire someone else.

2. Could you please tell us a little about your upcoming EP "Strangers"?

"Strangers" is basically my diary. It's stories from the past 2 years of my life and it's deep and real while also being a record that you can jam out to in your car. The recording process was so fun for the record and I think it ended up with a really unique sound. I couldn't be happier with how it turned out.. it's really just me in music form.

3. What are you hoping that audiences will take away from it once the album is out?

Listeners always surprise me with what they take away from my songs. I'll write about one thing and I'll have someone tell me how they related it to their life and that is my favorite thing about being a songwriter. So when people listen to this album, I hope that it can resonate with them and maybe even make them feel like they aren't alone in something they are going through. For me, this project really came from me trying to figure out who I am and how different situations affect me. It's about confusion and relationships and self-empowerment. It's really for anyone that is trying to find their place in this world.

4. As a music fan, who are your major influences?

I love so many types of music but some of my favorite artists are The 1975, Bob Dylan, Ingrid Michaelson and SO MANY others.

5. What do you feel is your biggest achievement so far?

I think my biggest or most memorable achievement so far is probably hearing myself on the radio for the first time. That was one of my career goals and I completed it at 17 years old. It was one of the best moments of my life so far.

6. What do you feel is your biggest challenge in your singing career?

The biggest challenge in this career for me is probably self promotion. It sounds silly.. but I absolutely hate pushing myself or my music onto people or even bringing it up in conversation.... it makes me feel braggy. I even get embarrassed when my mom brags about me!

7. If you have chance to travel the world with anyone in the world, who would you take?

I would take my family... I know it sounds like I'm just saying that to be nice but I grew up traveling the country with them for my Dad's job and I couldn't imagine seeing the world with anyone else.

8. What is your typical day like when you're not working?

I'm currently in cosmetology school and I have a part time job at a hair salon. So my typical day starts with coffee ALWAYS, then school where I get to make people look pretty. And then I get to go to work and learn from crazy talented stylists...then I stuff my face with tacos after work and go home and write music or watch Netflix.

9. So many teen celebrities are committed to public service, setting a great example for their peers in terms of being involved with charities and the community. What causes are important to you, and what do you do to support them? My great grandma and great aunt both suffered from Alzheimer's and it really is a devastating disease. I wrote a song about it when I was 14 and performed it at a book signing for a book about Alzheimer's. I also sing at a retirement home every month with my church. I hope to be more involved with the Alzheimer's Association in the future.
10. How can your fans interact with you online?

My fans can interact through Facebook: Mason Ashley, Instagram: masonashleymusic, and Twitter: themasonashley.

11. What have you learned since starting your music career?

So far I've learned that people love honesty. I used to be scared to be too real or deep in my writing because I didn't want everyone to know all my stories or secrets but I've realized that the more honest I am, the more listeners relate to my music and it's almost like therapy for me. So I've learned that opening up isn't a bad thing.

12. Now for my last question: what do you want to say to those who wish to pursue their singing careers?

Push yourself. There will be times when you'll want to quit. You'll feel like you're not good enough or that it's too hard...but those times are the moments when you can really make yourself better. When you hit a bad note or get turned down by a label or just feel like giving up... don't. If you love it and have the guts and passion to do it, then give it all you've got. Nothing is guaranteed and guy might not be the next Taylor Swift.. but the world already has a Taylor Swift. So push yourself to be the best version of YOU that you can be.

Don't forget to listen to her latest single, Paper Plans:
​
Powered by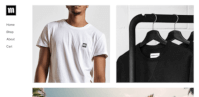 Create your own unique website with customizable templates.